Gather your troops because season 5 of the Tournament Series begins!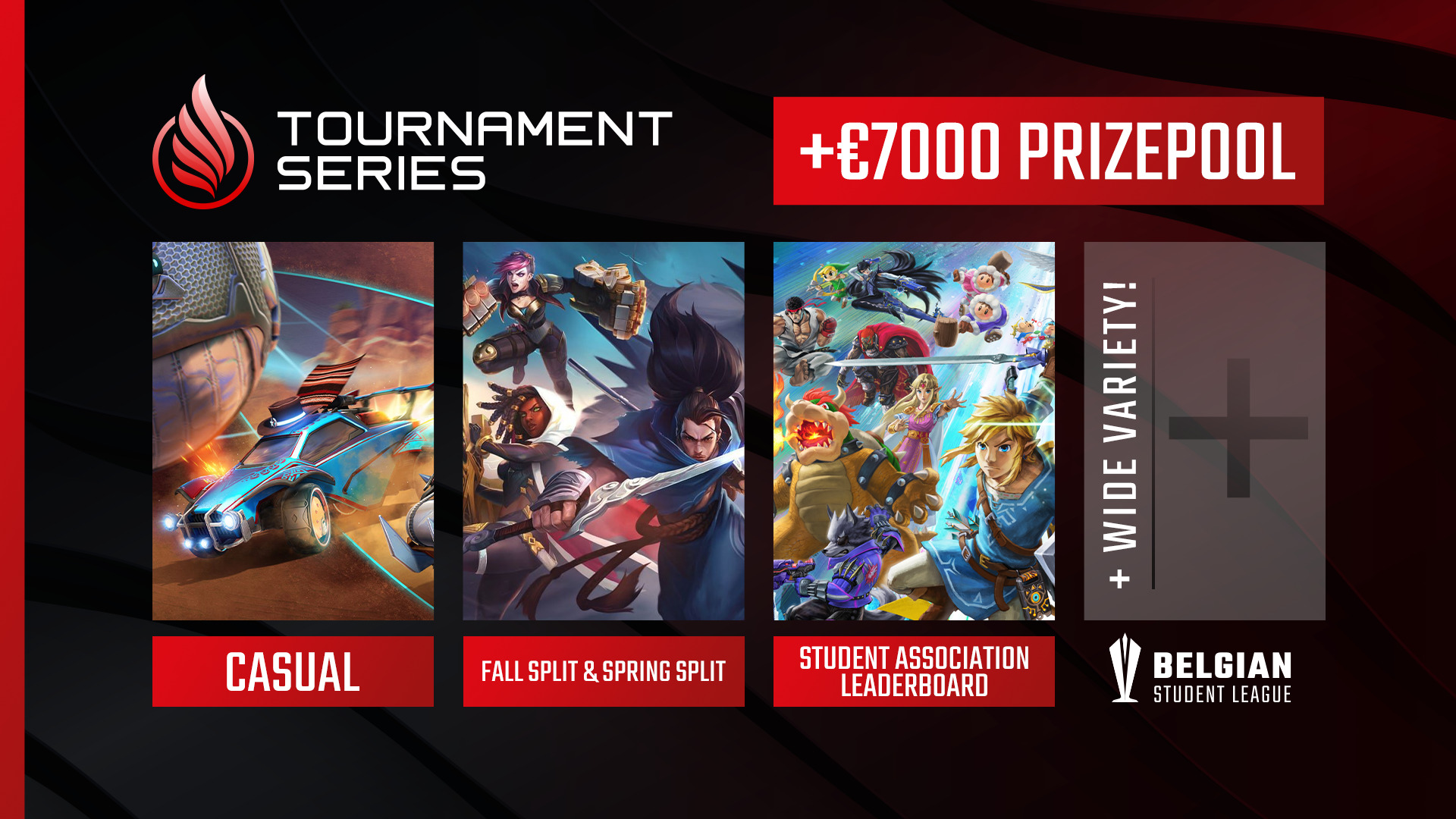 Competing at the highest level isn't for everyone, but that doesn't mean you shouldn't be able to participate. That's why we created the Tournament Series, where we off tournaments for all sorts of games together with our partners. This goes from popular games like CS:GO, League of Legends and Rocket League, to mobile games like Brawl Stars and Clash Royale. Are you excited to show off your skills in a specific game, but we haven't hosted it yet? Let us know and we'll see what we can do.
The Tournament Series also has a leaderboard where the best and most active communities get rewarded. The Fall Split 2021 was won by AeS-ULB and they took home €800. The student association did all they could do become the number one this split.
Last year the winner of Spring Split 2022 was VUB Gaming. They took home €1,200 after they overwhelmed UGent Esports with a difference of 535 points.
Last year we already had some great events. For example, the House of HR Cup where the best team of Belgium, VUB Gaming competed against the best team of the Netherlands, Erasmus Eagles.
The next tournament was Rocket League: Block Busters, which was in partnership with Kinepolis. We created this for all the people who have not had the chance to participate in the BSL.
In preparation for the famous Red Bull Campus Clutch, we created the Valorant Clutch tournament. This was the perfect warm-up to see what you, and your team, can do better.
Finally, we had the Burger King Of The Hill challenge. This tournament was split into two different phases. The first phase was an aim map set in an awesome Burger King restaurant. The four winners of that phase got to compete against each other in the second phase. After the second stage, a champion was chosen to take on a mystery CS:GO player. Here you could test your skills against the best of the best.
That were some of our best tournaments from season 4. Are you excited for season 5, because this season we are going bigger and better!