Meet the teams: HOGENT Esports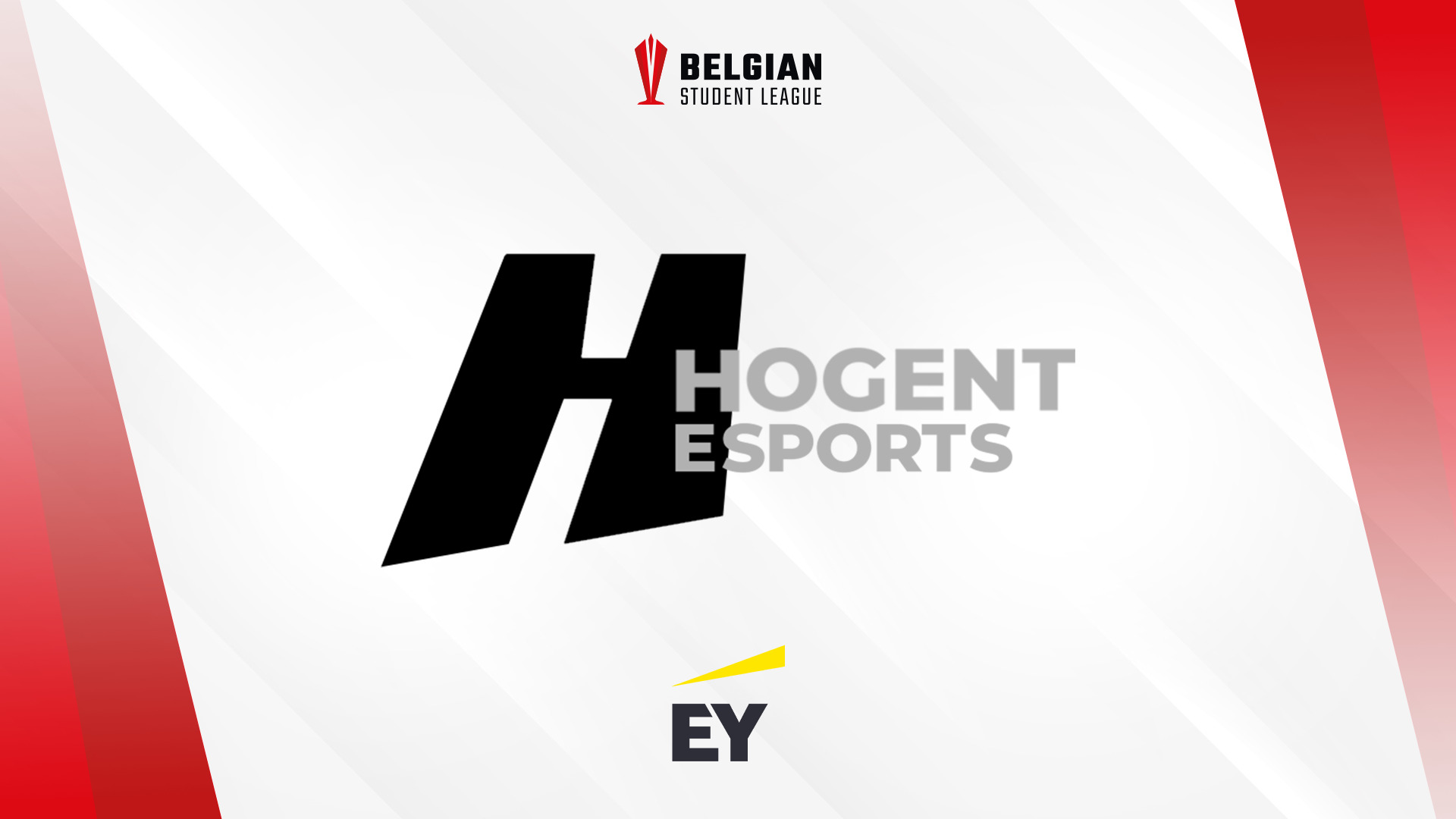 Meet The Teams: HOGENT Esports  
After all that young blood, it's once again time to put an old-timer in the picture. And what a perfect timing since they recently rebranded their logo! Of course we are talking about none other than HOGENT Esports, the Rocket League Champions of season 2! 
HOGENT is one of the 17 Flemish colleges of higher education. It was created in 1995 during the reform of higher education in Flanders from a merger of thirteen educational institutions. The college's branches are scattered throughout Ghent, Aalst, Melle, Lokeren and Bottelare. Currently, there are more than 17,500 students. And a lot of them are interested in gaming and esports!  
Founding of HOGENT Esports 
The first steps towards the creation of HOGENT Gaming were taken by Lucas and Andreas. They created HOGENT Gaming back in the day at the request of the Belgian Student League. Only to be taken over a year later by ARTOMIC, together with UGent Esports. Nowadays HOGENT Gaming is getting used for a lot more than only esports. It's a community for students that are looking for friends to game with or to ask information about esports, games, Belgian Student League. HOGENT Esports was then created for the competitive aspect of HOGENT Gaming. 
ARTOMIC is primarily driven by his love for competitive gaming when it comes to organizing these communities, as he enjoys the process of assembling the strongest possible teams to represent HOGENT in various tournaments. His competitive nature is evident through his satisfaction and sense of accomplishment when his teams perform well. 
Core values of HOGENT Esports 
HOGENT, like a lot of the other communities, is mainly there for fun and to bond as a group. Bonding and having that feeling like they are a strong community together is more important than winning. But moving forward they like to improve as well and focus a little bit more on winning.  
BSL Season 5 Roster 
This year they'll be exclusively battling it out in the arenas of Rocket League and League of Legends, as their skilled FIFA player Jonas graduated last year. Congrats to him!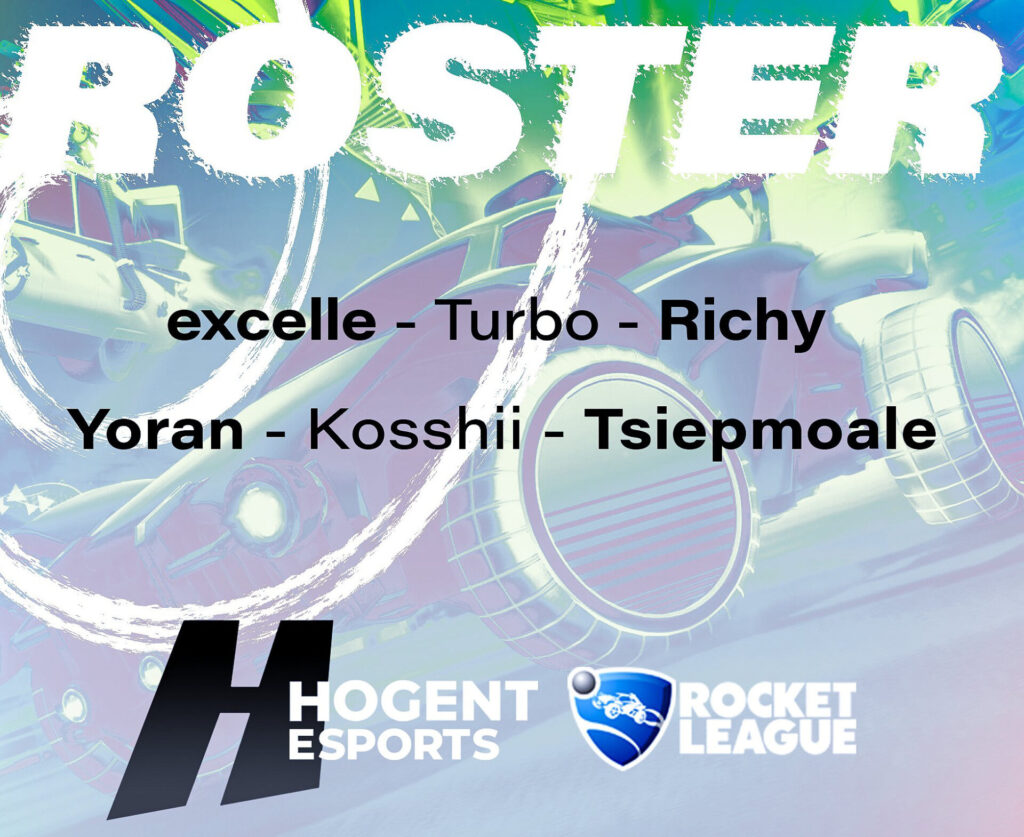 RL 
The Rocket League squad has undergone a reawakening, bringing in a new breath of fresh air to the roster. They are ready to demonstrate their worth and leave an indelible mark on the Belgian Student League. With a fiery passion and unyielding determination, these newcomers are set to take on all challengers.  
The team consists of Excelle, Turbo, Richy, Yoran, Kosshii and Tsiepmoale. Their boundless energy and tenacity make them a force to be reckoned with, and we can't wait to see what they bring to the field.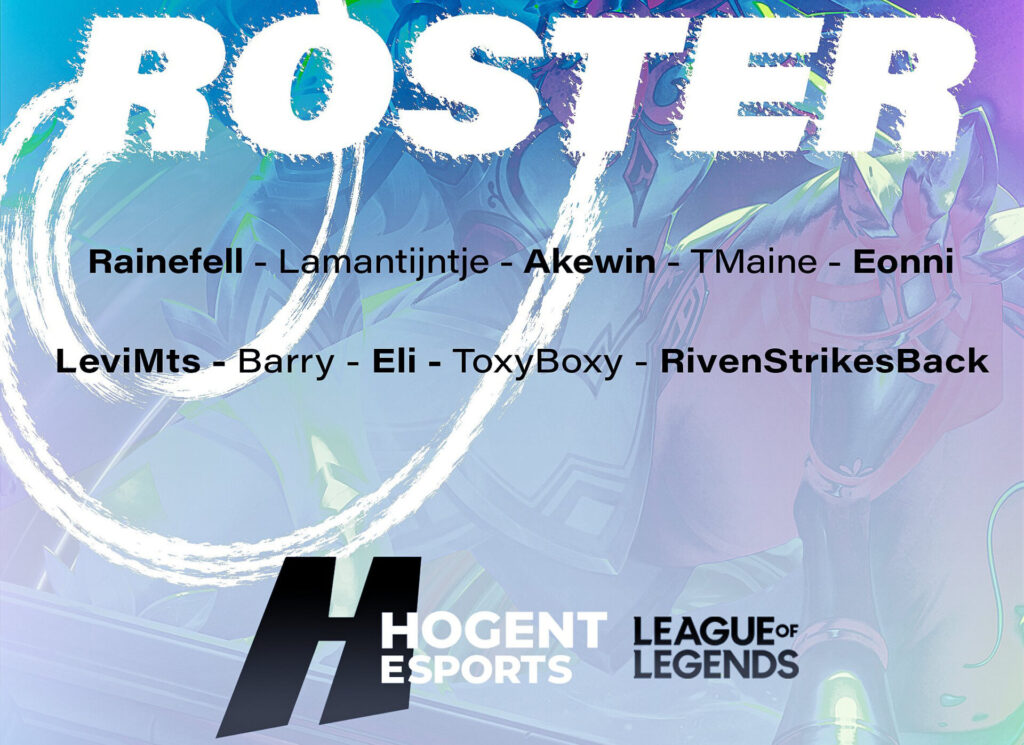 LoL
As for the League of Legends lineup, HOGENT Esports has struck gold with a well-rounded blend of experienced veterans and promising young talents. The veterans of last year bring expertise and knowledge to the table, while the rookies inject a fresh dose of energy and innovation into the mix.
ARTOMIC, the coordinator of the community, thinks this chemistry might be an advantage that will take them to victory in the Belgian Student League.
The HOGENT Esports League of Legends team consists of ten players with varying ranks, including Rainefell, Lamantijntje, Akewin, TMaine, Eonni, LeviMts, Barry, Eli, ToxyBoy, and RivenStrikesBack, ranging from Bronze to Grandmaster. While ranks can serve as a useful indicator of skill level, ultimately, it's the team's collective effort and cooperation that leads to victory.
Expectations for the BSL S5
Their expectations are already a lot higher than they were last year, so that's a good thing. For Rocket League they are aiming for the top-four. HOGENT won the Rocket Leage competition in season two of the Belgian Student League, but since then the competition got a lot fiercer. We have some very good Rocket League players in our league that are also achieving stuff outside of college Rocket League which is incredible!
While the competition will be tough, ARTOMIC has high hopes for HOGENT's League of Legends team and is confident that they can secure a spot in the top two. It won't be an easy feat, but he believes that with hard work and determination, they can achieve their goal.
It's no secret that the fiercest foes of this team are none other than UGent Esports. And let's be real, who doesn't love a derby matchup?
Future of HOGENT Esports 
As HOGENT looks to the future, finding the right person to fill ARTOMIC's shoes is a top priority. Since it's his last year at the school, they are looking for someone who matches his passion for the community. Finding the right person to lead this community on the track to success will be vital for HOGENT this year.  
At HOGENT, the community spirit is alive and well, with members valuing the joy of camaraderie and bonding over the pressure to win. While they recognize the importance of victory, they understand that a sense of togetherness is the foundation upon which great things are built. Looking ahead, HOGENT has big plans to promote esports in Belgium and with other student communities. To achieve this goal, they are committed to helping their members develop their gaming skills, communication skills and to improve their overall level.  
But HOGENT's dedication to their members goes beyond just fostering their competitive edge. They strive to create an environment that meets their members' needs and desires, by providing quick and reliable responses to their questions and constantly improving the community's gaming and esports offerings. 
Esports on a European level 
HOGENT Esports is not scared of a tournament on an international level. Last year they tried to qualify for the FACEIT Collegiate CSGO EU 2022 Tournament. But they failed to qualify, losing in the last map 16-12 to HOWEST. This year they will look out for other international tournaments in the games CSGO and VALORANT.