Season 6 of the Belgian Student League!
Season 6 of the Belgian Student League!
Hello, students! Get ready because the new season of the Belgian Student League is just around the corner. The BSL, in short, is the perfect opportunity to compete in gaming tournaments while pursuing your studies alongside like-minded individuals!
The Belgian Student League comprises three components: the Belgian Student League itself, the Tournament Series, and Student Events. 
Make sure to follow our social media accounts because we'll be dropping some exciting news in January!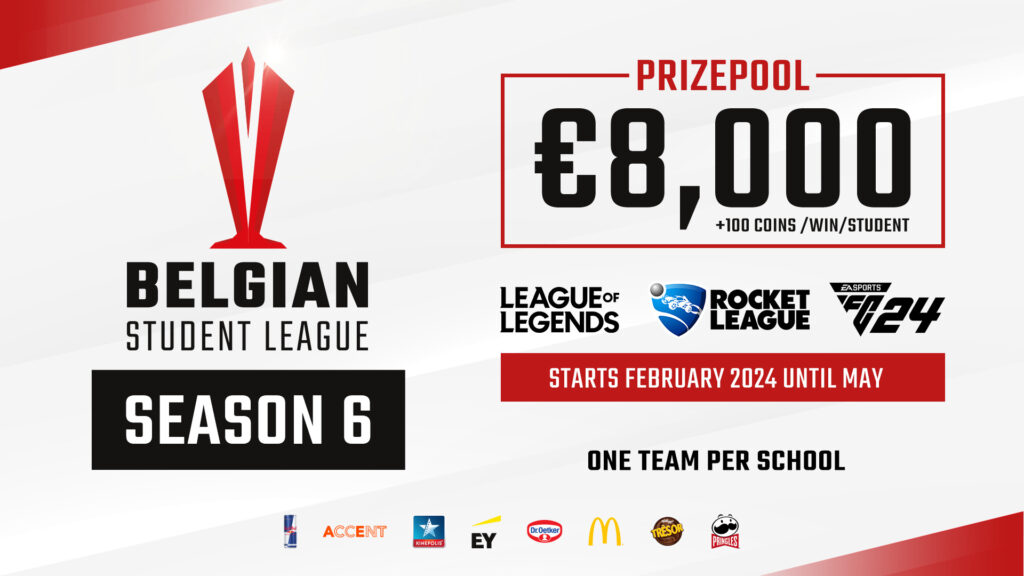 The main competition happens here, and it's for the hardcore gamers among the Belgian students. Every school gets to pick one team that will represent them in this league while they battle each other for a share of the 8,000 euro prize pool.
Last season, Ephec showed us exactly why they are the best school in the history of the BSL to ever play League of Legends, winning their fourth title. In the Rocket League department, there was a minor upset as UGent Esports defeated the previous titan, VUB Gaming, to claim their first Rocket League title. UCLOUVAIN Cefuc Esports secured their debut FIFA championship with a golden goal by Louis Caypas, defeating BigRoen from Thomas More Gaming.
This year, we're all about three main games, and there's €8,000 up for grabs:
– League of Legends: €5,000
– Rocket League: €2,000
– EAFC24: €1,000
– You'll earn 100 College Coins for every win to spend in the BSL Market.
Schools will compete from February to May or June, and the finals will be played offline. The location has not been determined yet.
Your path to the Global championships for students
The Belgian Student League is your ticket to the global stage. You can qualify for the University Esports Masters and the European University Rocketeers Championship, both epic European student championships.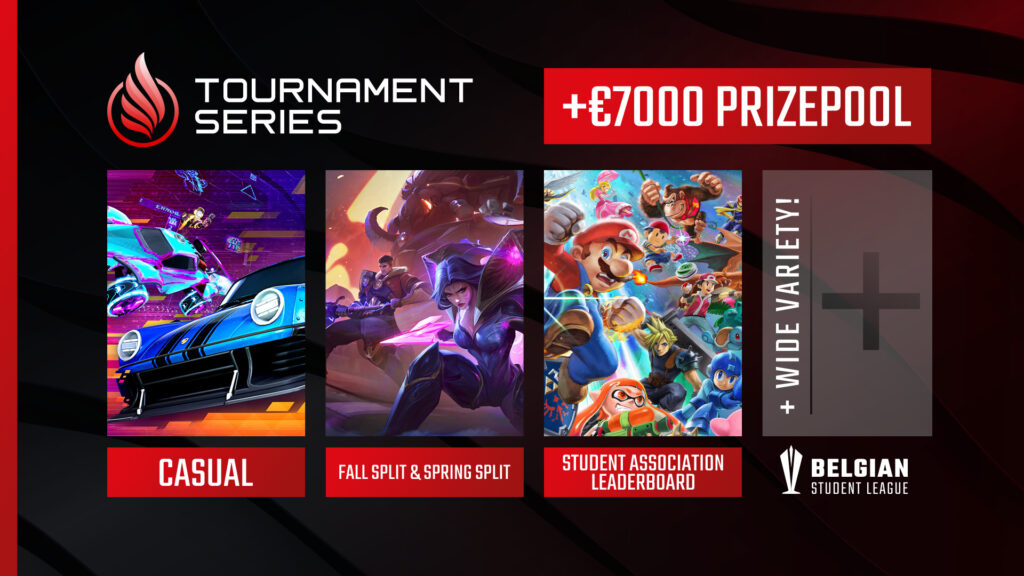 Tournament Series
The Tournament Series is all about having a good time with a wide range of games, but there's still that competitive edge! Any student can join in, and you even get to team up with students from different schools to rack up as many points as you can for your community!
These tournaments have their own prize pool, and there's also a leaderboard where players can score points for themselves and their association.
The Tournament Series offers a €7,000 prize pool distributed as follows:
€2,000 for the top 5 associations in the Fall Split (ending in mid-December).
€3,000 for the top 5 associations in the Spring Split (ending in mid-May).
The remaining €2,000 will go to winners of various season tournaments.
 
UCLOUVAIN Cefuc Esports secured €800 by participating as much as possible in the Fall Split of the Tournament Series.
PXL Esports, the Valorant champs, showed us they're more than just good at VALORANT by grabbing the big prize in the Spring Split.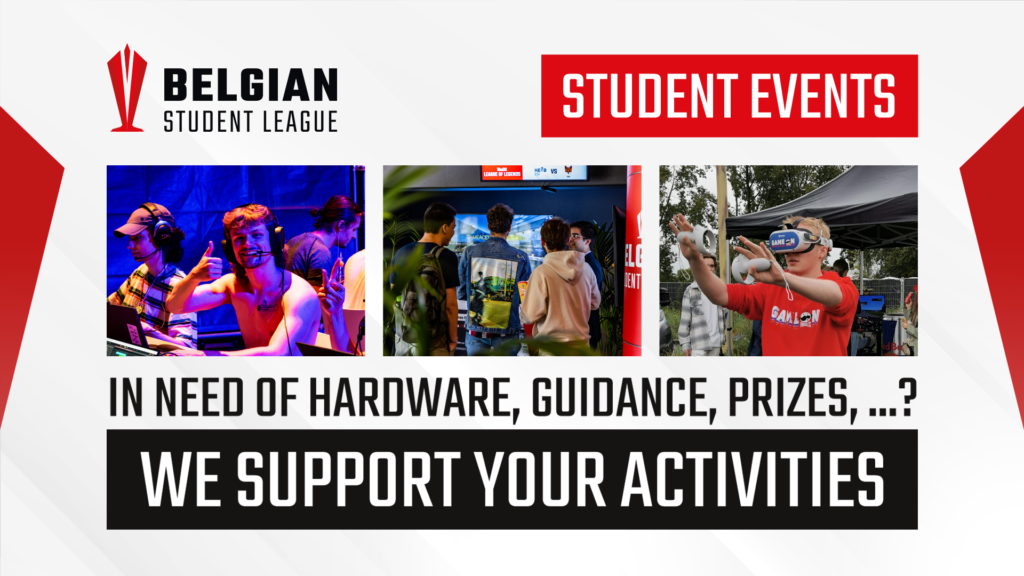 Student Events
Esports is the future, and we're here to help. Our platform is for students to share ideas, ask questions, and solve problems. No idea is too crazy!
BSL has tons of event experience, and we're ready to help you host watch parties, game tournaments, workshops, and more. We'll even help with promotion. If you need it, we've got it!
We have helped out at Thomas More Gamefest, multiple kick-offs, UCLAN, and many more. Here are some pictures.