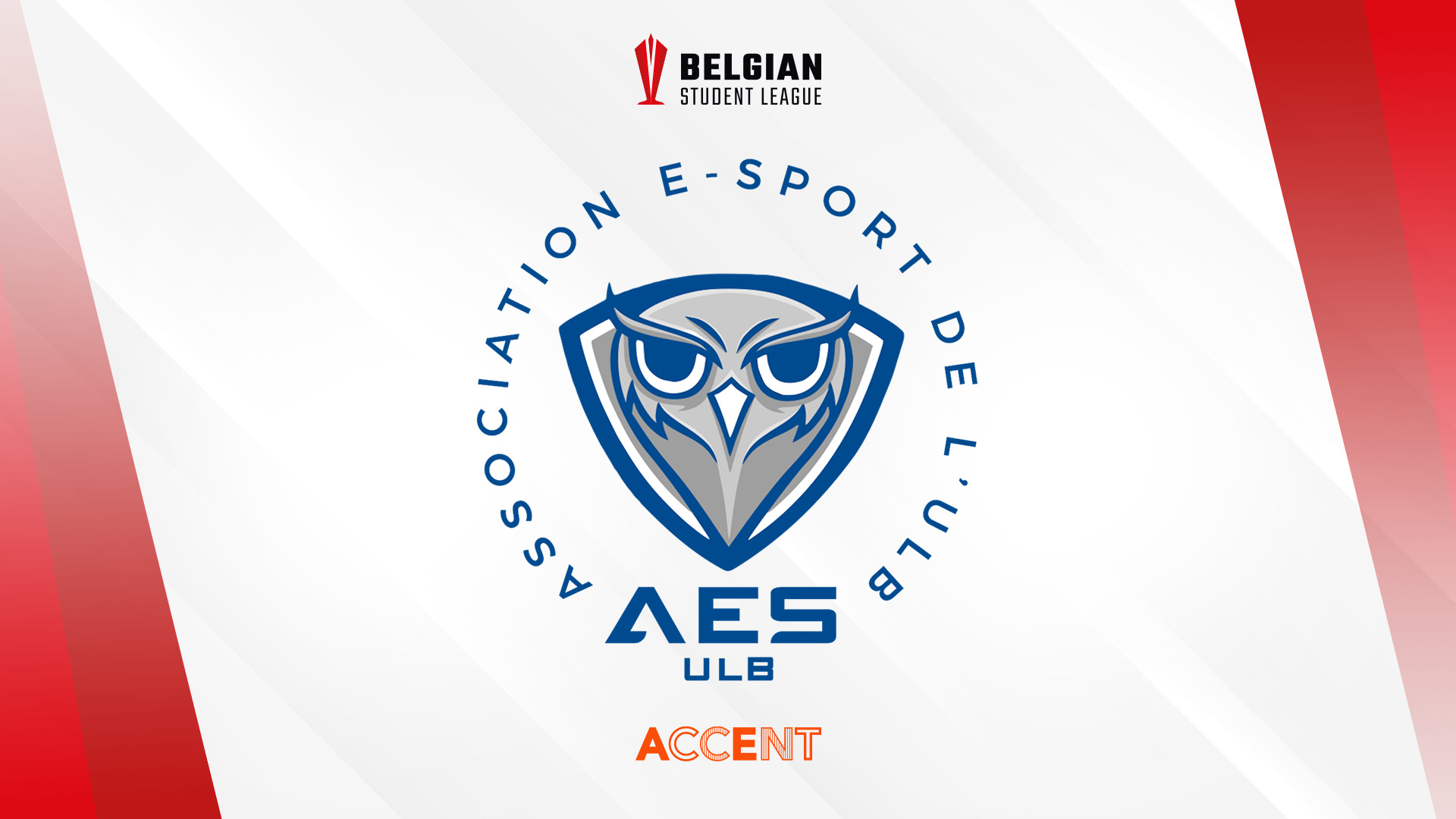 Meet the teams: AeS ULB
Association Esport de l'ULB, is the esports community for the Université Libre de Bruxelles. AeS ULB is known as the oldest university esports association in Belgium. AeS ULB was created in March 2017 by three students of ULB and an alumnus. 
The reason they started the student association was because they felt esports was invisible in Belgium. On top of that, the target audience of esports is people around the age of people at universities. They currently have 25 members participating in the Belgian Student League. They also have a whole fan army supporting them. 
More than playing video games 
We had the chance to interview Izway, the person behind AeS ULB's communications. We asked Izway what makes Association Esport de l'ULB so special? "Our association is more than a group of friends playing video games. Our vision is to develop the competitive part and the organization itself. We are a team where students can develop all their skills. For example, HR, communication, law, physical therapy, graphic design, management,… They learn the theory in their classes and then apply it at our club. The same goes for the players. Most of them have never played on a team before. In our club they learn teamwork, training, speech regulation, mentality change,…  
We also help with theses on esports, podcasts for esports. We have already helped high-level players get facilities in their undergraduate studies."
Future of AeS ULB 
They plan to create a big event this year and make AeS ULB the largest esports association in Belgium. Izway and Association Esport de l'ULB want to make esports bigger because they really believe in the culture. Everyone plays video games, but some people still see it as a problem and they want to change that.  
AeS ULB already has a FIFA player and is creating a roster for League of Legends and Rocket League, which they will focus on for now. Their primary goal is to conquer the Belgian Student League, but Izway hopes to compete in larger tournaments in the future.  
Heading into season 5 of the Belgian Student League, they want to show the world that ULB students are talented. Izway is not sure who their biggest rival will be, but he said PXL is a pretty scary team and of course also mentions VUB, their sister university. 
For the BSL, AeS ULB was one of the first communities to participate in the Belgian Student League. Not only did they participate, they won! Association eSport de l'ULB has achieved a lot over the past few years. They also finished first place in all of our main games: Rocket League, FIFA and League of Legends.   
The students had a great performance during season four of the Belgian Student League. They became champions of the UniRocketeers Winter Cup 2021 and they finished first place in the UEM 2022 Belgian Qualifier (LoL). On top of that, they won the BSL Season 4: Tournament Series Fall Split.  
Rocket League 
AeS ULB had a very strong roster for the Belgian qualification of the Winter Cup. They won the qualifier with only dropping one game against Howest Esports. During the University Rocketeer event they performed poorly and finished top 23. It seems that the other collegiate teams were a level above them.  
After their loss at the University Rocketeers Winter Cup things went downhill for Association Esport de l'ULB. And it felt like there was a crack in the great teamwork we saw in the previous tournaments. They finished third in the UEM 2022 qualifier, where they had a very close match with UGent Esports, but they could not wrap it up. 
What can we expect from AeS ULB this year? They are building their new roster as we speak, and they sound very confident. We can't wait to see what the future holds for AeS ULB, they have proven to be a strong competitor in Rocket League. And we hope they can bring back the glory of the past. 
FIFA 
In the first season of the Belgian Student League, AeS ULB was the team to beat. That season was conquered by Ardixa, one of the fans' favorites. Season one was a great start for Adrixa, but in season two of the BSL he faced more competition. In that season he finished third place behind MrDoorey and the big winner Bram_VD. Association Esport de l'ULB certainly has a lot of experience in FIFA, but let's stop dwelling on the past and focus on the future of AeS ULB.  
After two sloppy FIFA seasons, they are back and they are on a mission. They want to recapture their title and their fame as one of the best FIFA schools! The man who is going to make sure of that is DaeDae. You can also see him at work on Twitch as Jonnyjo_ 
League of Legends 
AeS ULB's League of Legends team had a great start in season 4 of the Belgian Student League. They won the UEM 2022 European Qualifier against some very good teams. Unfortunately they did not perform as they did in the qualifier and finished third place in their pool with two other teams. 
After the disappointing results at the UEM 2022 they played out of their minds in the group stage of season 4 of the Belgian Student League. They went on a 6 game win streak and did not lose a single game! After a great performance in the group stage, they were definitely one of the favorites to win. However the first game in the bracket phase they suffered a disappointing loss against PXL Esports, who were 3-3 in the group stage. This was very difficult for them to overcome. After their loss, they were able to recover a little bit and beat AGEM 2-1 to finish the season in the top six. 
Association Esport de l'ULB has always been a strong League of Legends team, so we are very excited to see their new lineup. In the past they had some great players like Targamas (G2). They haven't confirmed the new lineup yet, so we are patiently waiting to see what great roster they put together. 
Association Esport de l'ULB is not only good at the competitive aspect of the Belgian Student League. They are also good at participating in the Tournament Series. They know exactly how to get their students excited to participate. You can see this in the standings of the Fall Split 2021. As a result, the community won a cash prize of 800 euro. Let's see if they can bring it home again this year.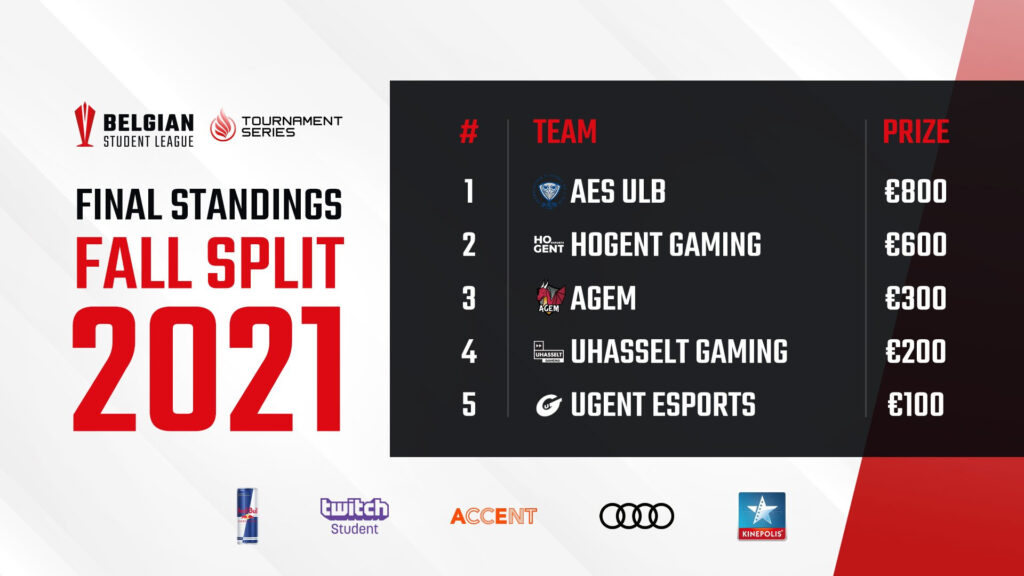 Last year, Association Esport de l'ULB organized a few online tournaments and a viewing party for the LoL World finals. This was hosted at Place du Luxembourg in the heart of Brussels. This year they want to organize online tournaments and more.  
AeS ULB was also present at GameForce Belgium together with VUB. They really enjoyed helping the Belgian Student League. They were there to play Rocket League with the visitors, and to give more information about the BSL.