Belgian Student League Season Five Begins!
Dear gamers! The 5th season of the Belgium Student League is upon us. Are you a student who loves competitive gaming, then this is the perfect spot for you! 
The Belgian Student League consists of three different components: Belgian Student League, the Tournament Series and the Students Events.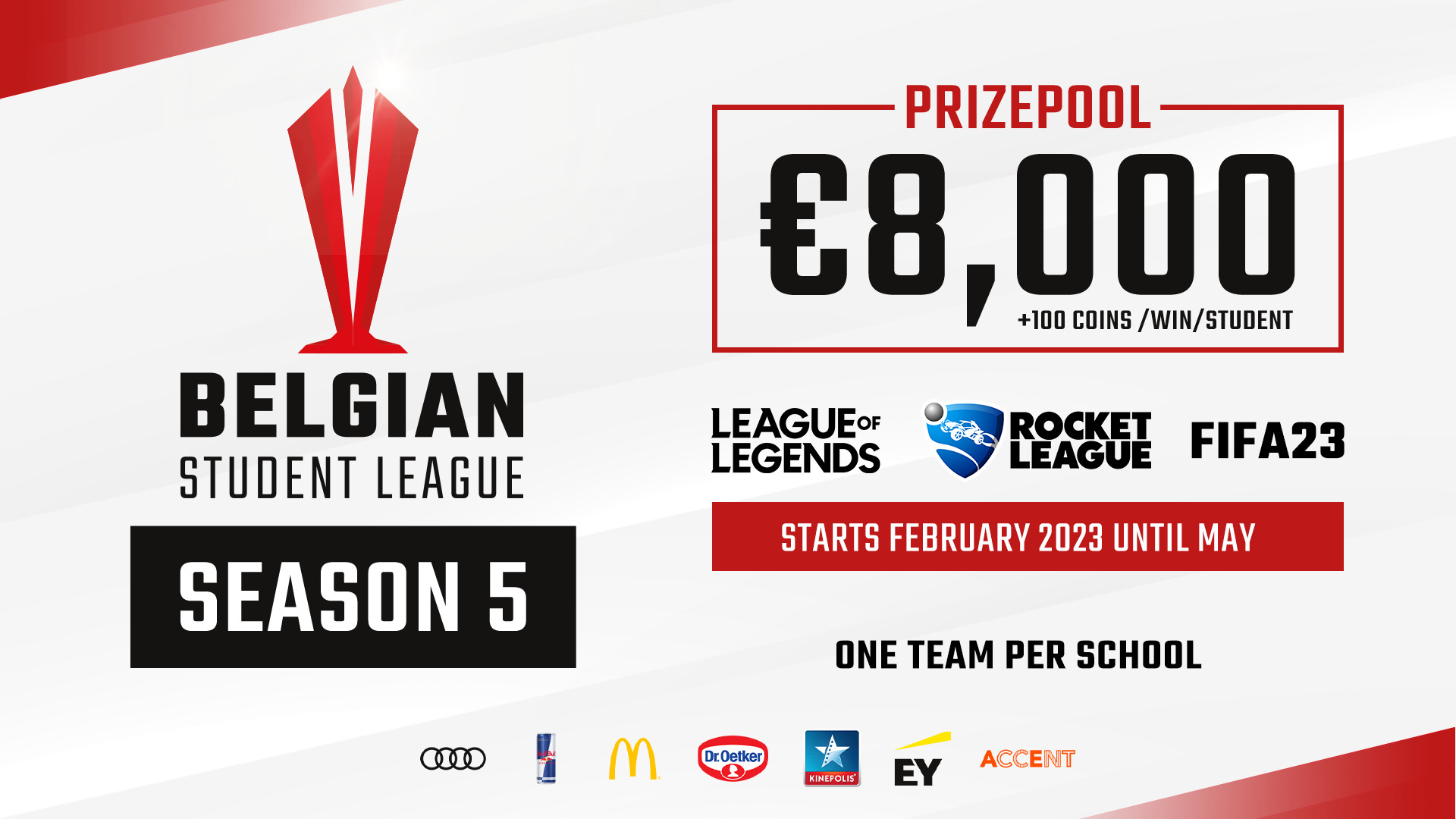 Belgian Student League
This is the big boy league, where the best gamers and teams clash against each other for the title! Last year HE2B-ESI was the winner in League of Legends, as they absolutely dominated the scene. The titan VUB Gaming won the other two titles: Rocket League and FIFA. This year the league will again revolve around these three games, each with a separate prize pool. The total prize pool consists of €8,000!  
League of Legends – €5,000
Rocket League – €2,000
FIFA – €1,000 

 
Each victory in the Belgian Student League will also get you 100 College Coins to spend at our marketplace. 
The participating schools will compete from February until May. The finals will be played offline at a secret location.  
The Belgian Student League is also your first step to the international stage. Teams will be able to qualify for the University Esports Masters in several games and the European University Rocketeers Championship. Both are European championships, specifically for students, with a massive audience. If you want a career as a pro gamer, the Belgian Student League is your place to start.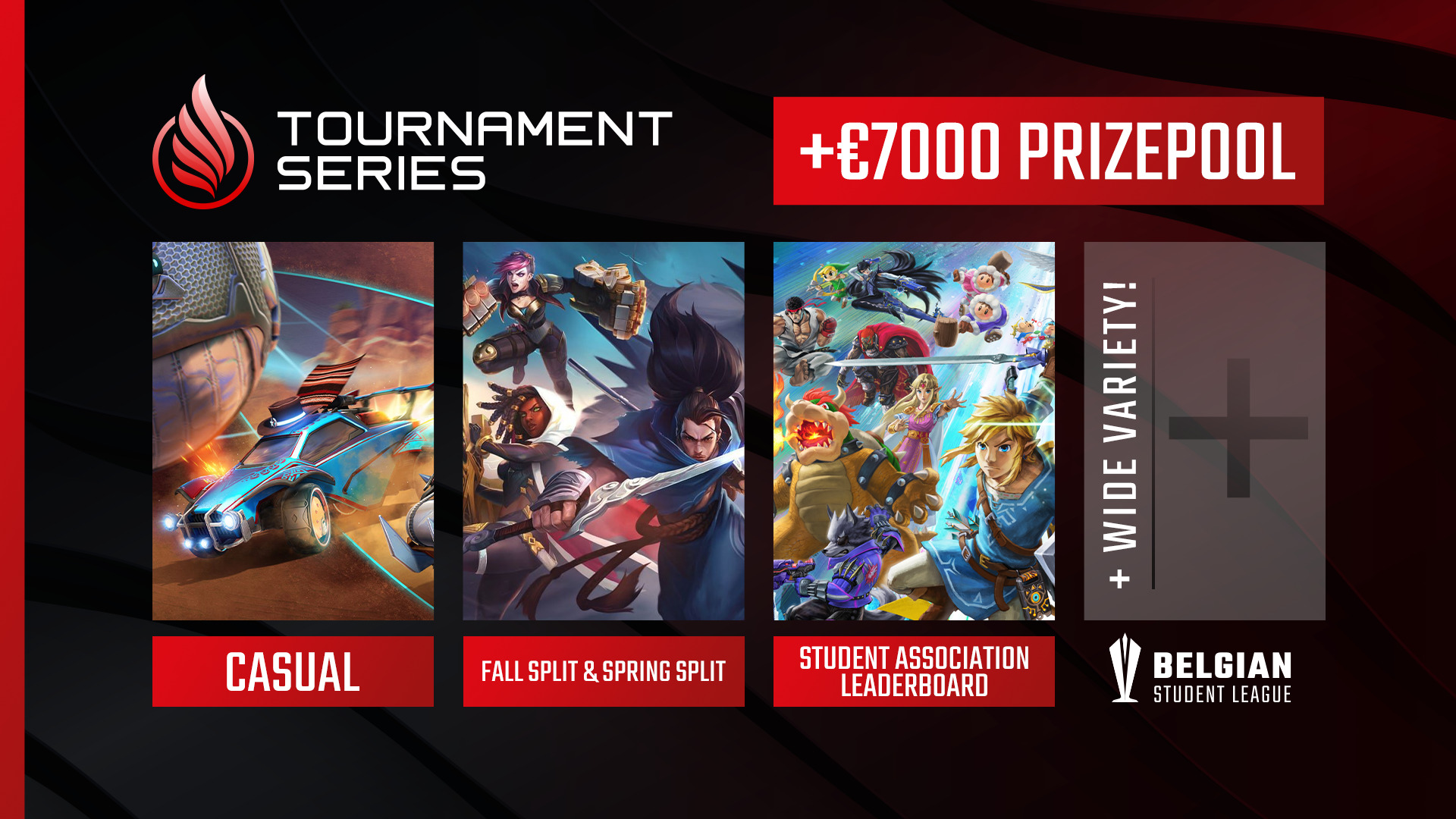 Tournament Series
Let's make esports great together! The Tournament Series is a series of tournaments in association with our partners. Everyone can take part, if you are a student. These tournaments are a great way to support yourself and your school. Make sure all your fellow students participate so you can win the grand prize. 
How does it work? Each tournament will have its own prize pool, but there will also be a leaderboard, where players collect points for themselves and for their association. 
The total prize pool for the Tournament Series will be €7,000, divided in three ways.

 

€2,000. will be divided between the 5 best associations of the Fall Split which runs until mid-December.
€3,000 will be divided between the 5 best associations of the Spring Split which runs until mid-May
The remaining €2,000 will be divided over the winners of several tournaments during the season.


The winner of The Fall Split last year was AeS-ULB and they won the grand prize of €800.
VUB Gaming isn't only good at esport but they are also very good at being active in the Tournament Series. They took home a whopping €1,200 in the Spring Split.    
Congratulations @AeSULB! 🥳

They showed up the most during last split's Tournament Series and take home €800. 💸

Soon we will announce a new series of tournaments for the spring split. Gather your troops and watch this space! ✌ pic.twitter.com/JLrF4YfAdG

— Belgian Student League (@StudentLeagueBE) February 15, 2022
In our #TournamentSeries Spring Split, @VUBgaming turned up the most and that's why they more than deserve the huge €1.200 prize! 🤑

🏆 @VUBgaming (€1.200)
🥈 @UGent_Esports (€800)
🥉 @Esports_PXL (€450)
4️⃣ @AeSULB(€300)
5️⃣ @HOGENT_Esports (€150)https://t.co/nfRnhmKxuG pic.twitter.com/DtFHfYeZiH

— Belgian Student League (@StudentLeagueBE) June 3, 2022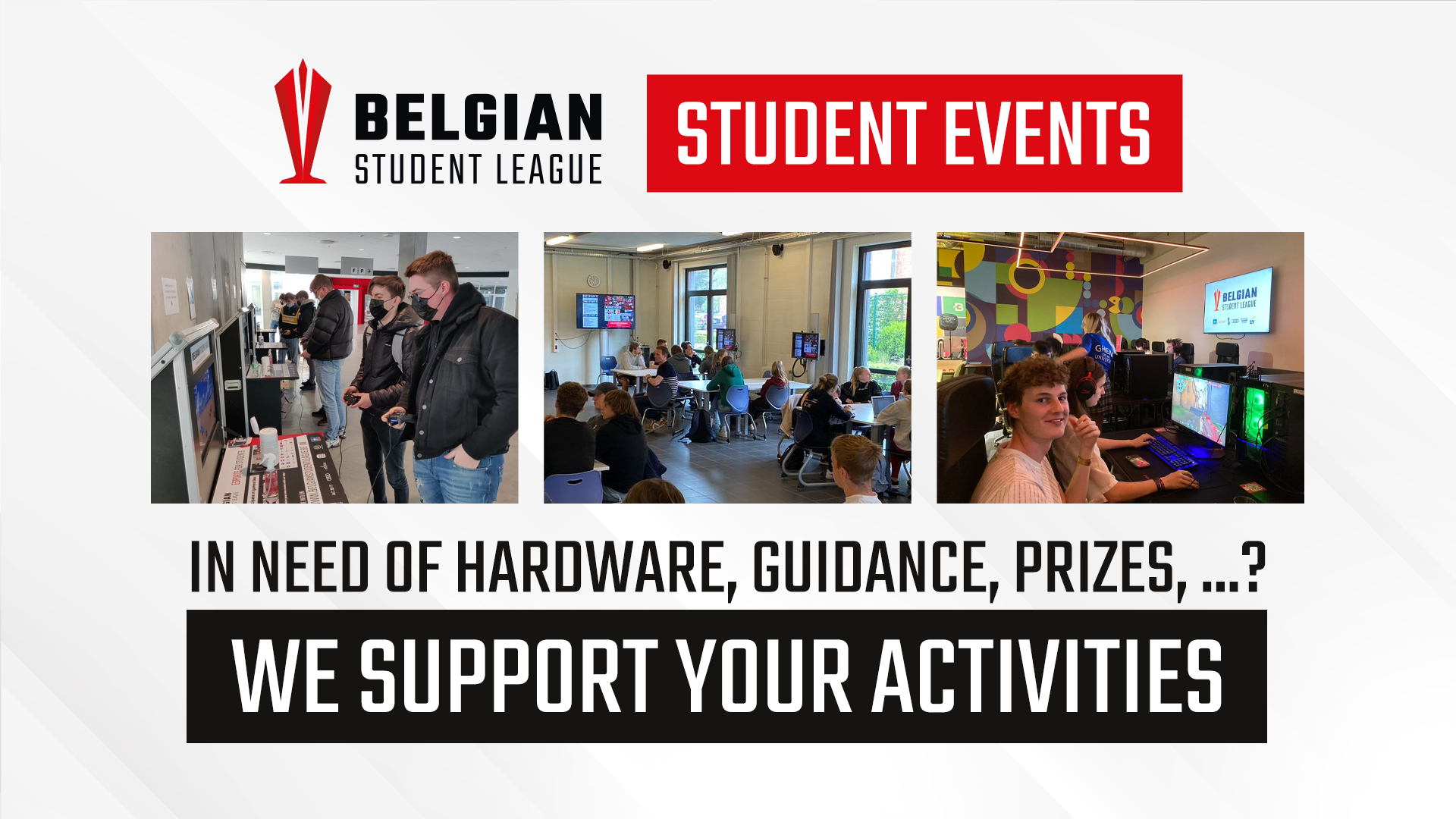 Esports is the future and we want to help as much as possible in every way. We are creating a platform for students where they can come to us with all their ideas, questions and problems. There are no bad ideas, so shoot your shot! BSL has a lot of experience in organizing esports events and we want to use that experience to help you organize your own events.  
Watch parties, game tournaments, game nights, workshops and more. It's all possible. We even help you promote your events. In short: you need it, we got it! 
That is what the Belgian Student League is all about. If you need to know more, feel free to contact us at info@belgianstudentleague.be. 
GLHF 
The Belgian Student League Team