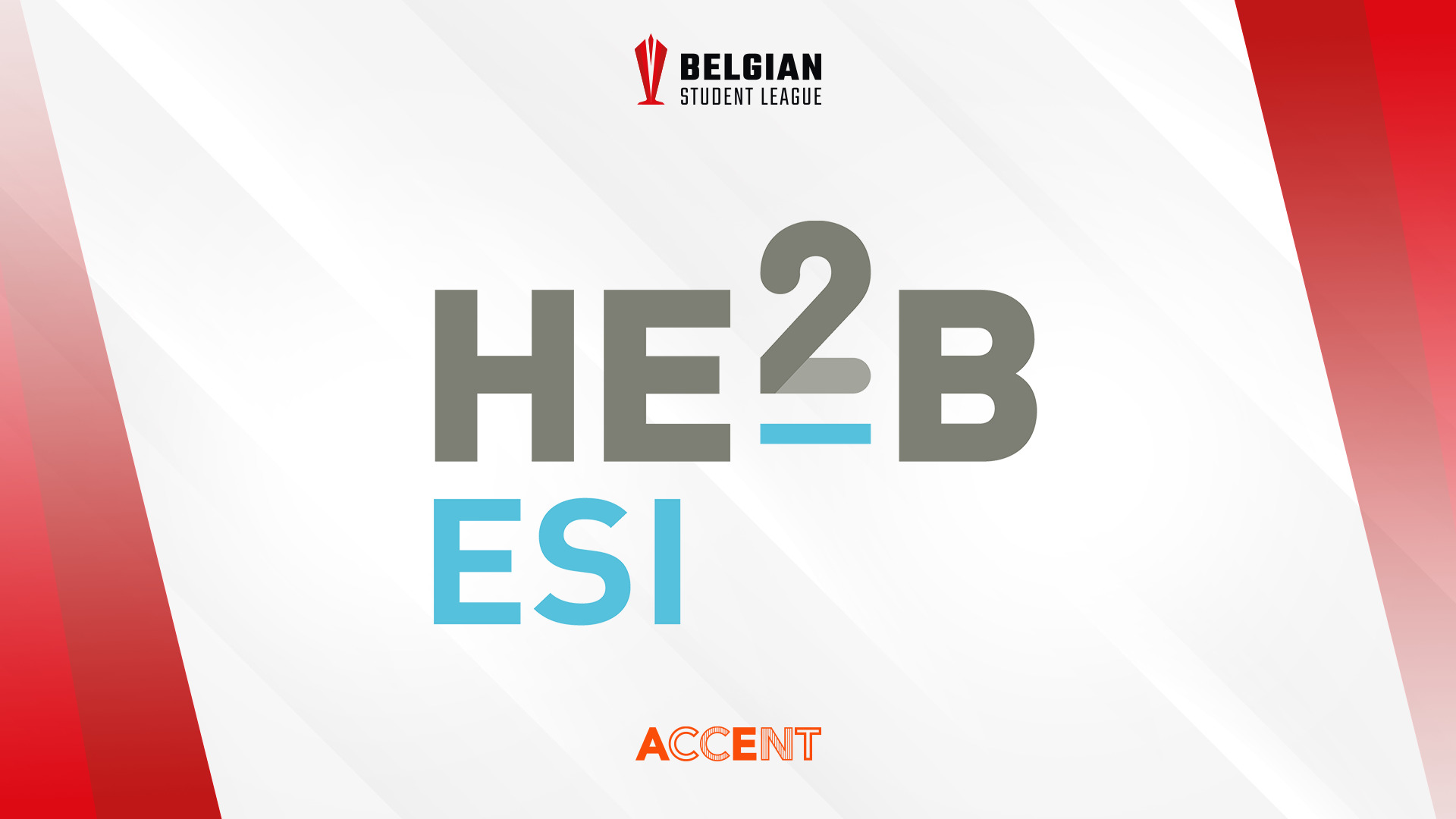 Haute École Bruxelles-Brabant is the new kid on the block of season 4 of the Belgian Student League. As a new competitor, a lot of teams didn't bat an eye when they joined, but this changed really quick when HE2B showed what they are capable of!
After the first 3-4 weeks in the BSL, HE2B had already made a name for itself. The League of Legends team surprised everyone when they defeated AGEM_Belgium and Vives. Two big shots in the competition, with a lot of experience. The same goes for their FIFA player PharaonOus (Ousama El-azab). Nobody knew him at the beginning, but he reached the coveted playoffs, in a very difficult group with Jonas_Dc2 and Uliks, with only 1 loss and 1 draw. Pretty good for your first season.
*RocketLeague*- Not Found
Haute École Bruxelles-Brabant didn't submit a Rocket League squad this year, so we reached out to Dimeh (Mehdi Karouay), the captain of the League of Legends team to see if that would change in the future. "Hmm, I don't think so, we only have a few gamers in our school and when I tried to recruit people this January, no one was really interested enough to play. So I think it's a no, unfortunately."
We would love to have a HE2B team participate in this competition. So this is a call to all Rocket League players: join the BSL Discord, put together a team, and maybe we will see you in the playoffs.
FIPharaon
As we have already said, PharaonOus is on fire! He beat SnelleJelle3 (Jelle Bogaerts) of UCLL Gaming 2-1 in the quarter-finals of the playoffs. Now he faces his toughest challenge yet: the semi-finals against EminoMercy, the terror of the BSL FIFA competition. Emino (Keanu Newa) has not lost a single match yet, so we are very excited to see how this battle will turn out.
This is what Dimeh has to say about Pharaon and his future in FIFA competition: "I think we have a pretty strong future in FIFA, because everyone here is very talented. To be honest, the selection this year was very close. Let's see where our prodigy will end up this year and next year."
League of Legends once
HE2B entered the league with a big bang! They showed right away that they are here to win and that no one should underestimate them. The team of Dimeh, AmazingWater, Ventolin, ImHero, and Roxx has amazing skills and great chemistry that earned them a spot in the playoffs. There they beat KU Leuven Gaming and Hogeschool Vives, showing HE2B deserves a spot in the BSL Finals!
But Dimeh's team did not stop there. HE2B also became the Belgian representative of the University Esports Masters for League of Legends. We asked him if this is the beginning of a new Golden Generation like Ephec and what their ambitions are for the future. "I do not think so. I am the captain (ADC) and the one who gathered all the players in the team. This is my last year before I graduate and start my professional life. I am pretty sure no one will play next year or the skill cap will be a little lower. So no ambition or anything like that. We just hope to do well and represent Belgium at the UEM."
It would be sad to see such a great team go or fall apart, but if HE2B does well in the finals and at the UEM, maybe this will have a snowball effect and increase the popularity of esports at HE2B.
The future of esports at HE2B
Looking at the results of their first year in the Belgian Student League, one would say that the future of HE2B looks bright. Their League of Legends team has reached the coveted finals and their FIFA prodigy has reached the semifinals in his first year. Everything is going fantastic, but Dimeh has some doubts, "This is probably the only year that our school will be competing in this competition (League of Legends) besides FIFA. Our school will not get involved with social media channels or anything like that, because we cannot give a 100% guarantee of good results. They are also still very new to esports, so they do not really support it."
We understand that it's difficult for a school to support esports if you do not know much about it, but every year more schools/teams join the Belgian Student League. In this series, we have talked to many different players/coaches/coordinators, and they all agree that collegiate esports has a very bright future. Gaming and esports is an outlet for many students. They get to meet new, like-minded students who share the same passion. They can join an amazing community where everyone is welcome and respected. You do not join the Belgian Student League just to win. You join the Belgian Student League to become part of a great community and have a good time.
We hope to see more from HE2B, Haute École Bruxelles-Brabant, in the future as they are a great addition to the competition.